VMU Folk-dance ensemble "Žilvitis" 65th Anniversary Concert
VMU Folk-dance ensemble "Žilvitis" 65th Anniversary Concert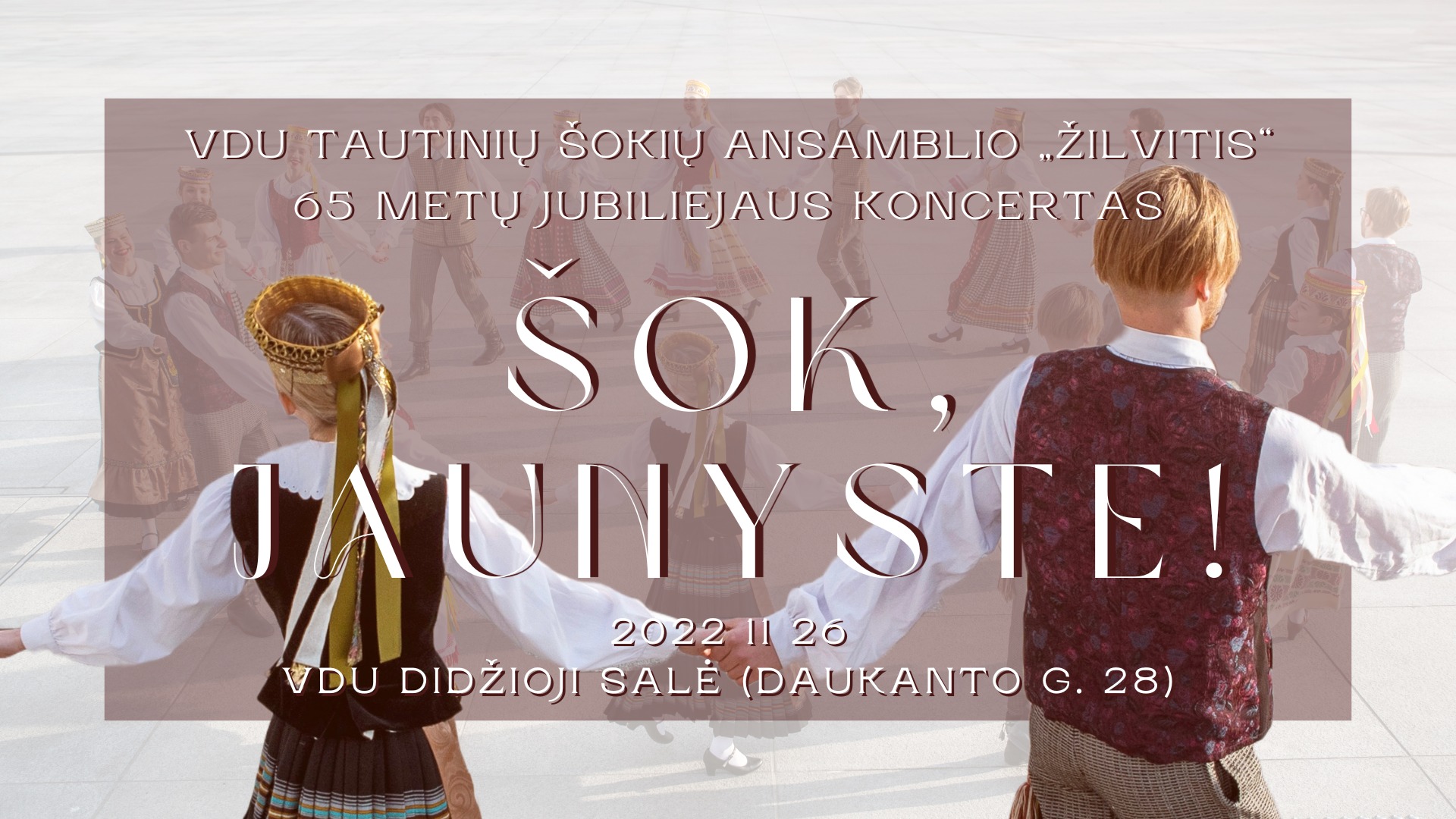 Since 1957 our vigorous youth is still flourishing and enjoying the dance step. This year "Žilvitis" celebrates it's 65th anniversary!
The first dance steps were taken by the dance group of the workers of the Radio Factory, but it was not until 1974 that they could proudly call themselves "Žilvitis". In 1979, the team was joined by artistic director Danutė Petrauskaitė and, for almost 30 years, with undying enthusiasm, she created a celebration not only for Lithuanian but also for foreign audiences.
After Lithuania regained its independence, "Žilvitis" became an independent ensemble, where they went on to participate in various festivals and won several awards: in 1995 "Žilvitis" received the highest rating of creative activities in the first Lithuanian youth dance ensemble competition "Kadagys". In 1998, the ensemble became part of the family at Vytautas Magnus University, and in 1999 won the first highest rating of the country's amateur art collectives – "Aukso paukštė". In 2000, "Žilvitis" attended the World Lithuanian Dance Festival in Canada, Toronto.
From 2008 and onwards "Žilvitis" dance group is accompanied by the studio head Edgaras Šnipaitis. The ensemble does not only share its art with Lithuanian spectators but also presents it all over the world – Croatia, Italy, Latvia, Turkey, India, China, Spain, Portugal, etc. And this summer, the ensemble's name rang at North America's XVI Lithuanian National Dance Festival in Philadelphia. With dance, "Žilvitis" displays the warmest of feelings, the breeze of nationality at Song and Dance, Baltic students, Kaunas City festivals, and others. "Žilvitis" also participates in projects, and musicals, and creates their repertoire.
For 65 years, the undying, lively youth has not stopped turning on the dance floor, and that is why we invite you to commemorate "Žilvitis" anniversary together!