Registration for VMU Arts Centre activities star...
Registration for VMU Arts Centre activities starts on August 31!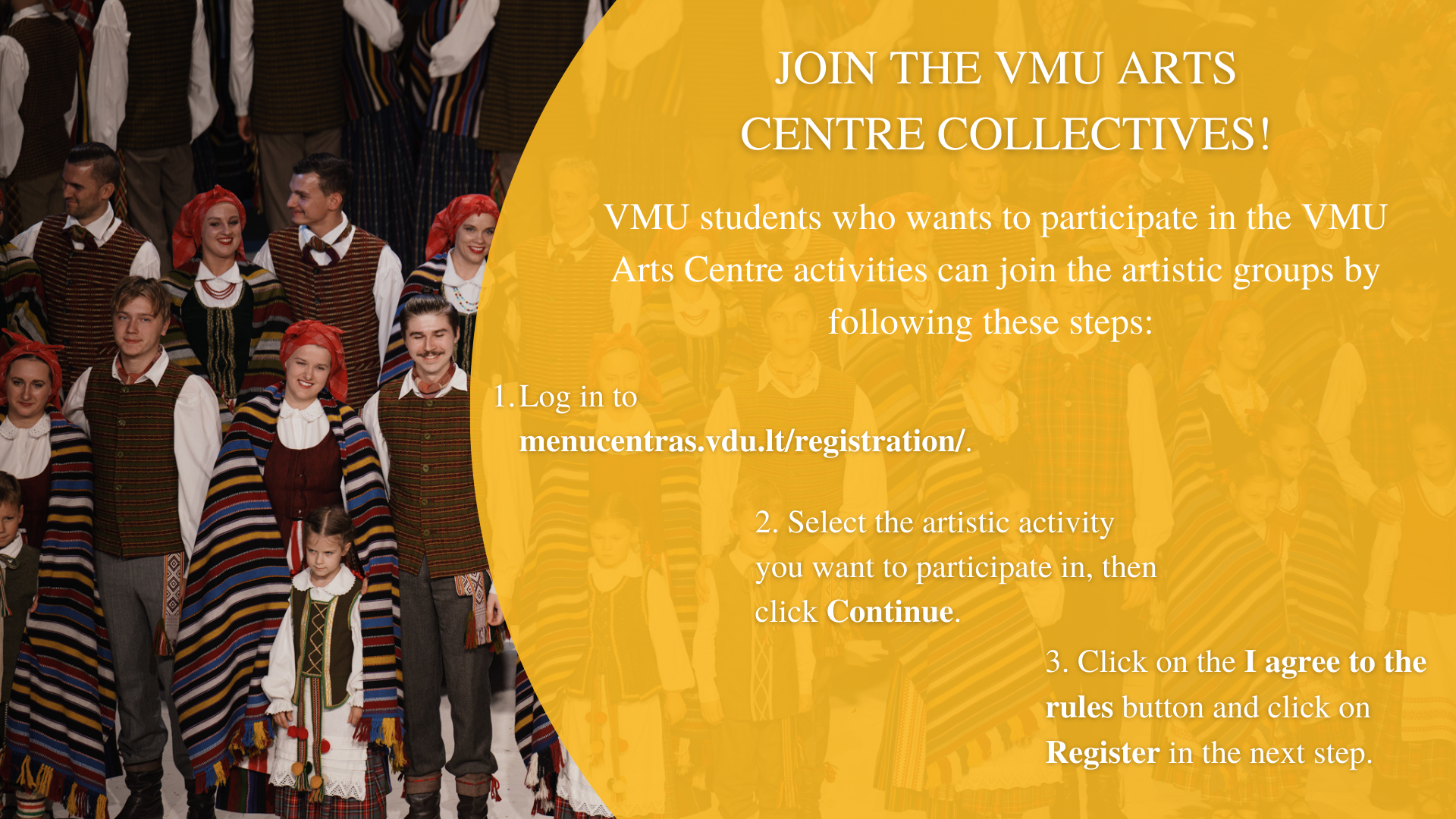 From August 31st all of Vytautas Magnus University students are invited to register and join the Arts Centre's collectives in the spring semester of 2023/2024.
All VMU students are eligible to attend the activities of the art groups, regardless of where and what they are studying (e.g., if you are studying Public Communication, you can attend the VMU ŽŪA folk music band "Ūkininkas"). Activities are free of charge for VMU students. You can register for several classes, so we invite you to actively join the Arts Centre's collectives and their activities, thus spending your free time in a meaningful and cultural way.
REGISTRATION: Students who wish to act, dance, sing, or play must join one (or several) of the VMU Arts Centre groups based in Kaunas, Akademija (Kaunas district), or Vilnius. You can do this by registering for the ongoing activities by following three steps:
should log in to the student self-service portal and select the Registration tab from the menu bar;
in the bar that appears, click on the button Registration for the Sports/Arts Centre;
then select Arts and in this section, you need to select the desired arts activity, tick it, click on the Continue button, and click on the I agree to the rules and the REGISTER button.
* The same principle applies to registration via menucentras.vdu.lt/registration/
The student will see the classes of the sports he/she has registered for in the student portal, under My activities. You can also withdraw from the selected activities in the student portal.
Once you have registered for a group at the Arts Centre, you can start attending activities from September 4th, at the times indicated in the group's timetable.
More information: